Digital Accounting
For us, good service is everything. We are always on the lookout for the latest innovations to make your everyday work easier and more efficient. We are brave and open-minded about new paths that have convinced us.
Solution-oriented ideas that promise success and prove themselves inspire us: Digital creates perspective in accounting. We are committed to the daily online processing of your payroll and financial accounting for you. Data protection, availability and long-term cooperation play a central role here. That is why we trust the DATEV company online cloud application, which guarantees a consistently digital process.
The software from the Nuremberg-based company DATEV eG contains numerous applications for optimal cooperation with the tax consulting company PBS Pekala und Partner. Companies and freelancers use the work platform to use modern communication channels to make work processes in the areas of bookkeeping, payment transactions, payroll accounting and digital document filing more efficient. Regardless of the size of the company. The ease of use, the up-to-date handling of your bookkeeping and the facilitation of work processes in the tax area create new freedom to concentrate on your core business.<
Absolute service. Absolute security.
The data and documents provided are archived in an audit-proof manner in the DATEV data center for 10 years. Companies and tax consultants can access the data at any time (24/7) anywhere in the world. And so that nobody can gain unauthorized access, the DATEV mIDentity USB stick or SmartLogin secures access to the program. Thanks to the electronic provision of the data, preparatory and follow-up activities in accounting can be optimized and made more flexible in terms of time. You can also transfer your invoices and receipts to the data center when you are out and about using the DATEV document upload app. Your bank statements are also no longer required. The banks transmit the account details to DATEV on a daily basis so that they can then be booked directly to the tax advisor.
Due to the faster data flow and the development of your own databases, you can add additional modules such as make payment transactions and dunning processes much easier and more efficient. The additional accounting management that is often used to monitor income is no longer necessary.
Extensive evaluation tools such as incoming and outgoing invoices, open item lists and online cash book are available. Datev Company Online also meets the new requirements of the GoBD for financial management. At the push of a button, you will reliably receive all data, figures or facts, updated daily and clearly laid out. This makes managing your company easier, safer and faster.
Clearly digital - benefit from the advantages:
Time savings: Fast digital processes ensure smooth data exchange. Incoming and outgoing invoices no longer have to travel between client and law firm. No loss of receipts and the originals always stay with the company.
Flexibility: You have access to the stored digital receipts and documents at any time and can individually define the type and scope of the collaboration.
Transparency: Client and law firm access the same database in DATEV company online, which is always up-to-date. Evaluations in the accounting can be traced back to the individual booking receipt.
Security: You exchange receipts, documents and evaluations via the certified DATEV cloud - protected from unauthorized access.
Quality: Thanks to efficient cooperation processes, working time can be invested in consulting topics.
Expandable: Optional takeover of dunning, payment proposals and payment transactions. Immediate provision of booking-relevant sales documents (with the additional module DATEV order management online).
Setting new software up is a mystery for you? We support you in a friendly and helpful manner in setting up the software. Together we analyze your specific needs and only select the functions to the extent that you actually need. The software is individually and precisely adapted to your ideas and wishes. You benefit from our dedicated advice and our experience. We explain the various software functions in an easy and understandable way.
We think in a service-oriented and partnership-based manner: You decide for yourself how work is to be divided between our law firm and your company. In our service area, we have set up clear processing agreements for financial accounting and wage accounting.
We are present in virtual reality - but in the "institutional" too!
DATEV has awarded PBS Pekala und Partner mbB Steuerberatungsgesellschaft the label of a digital law firm.
What does the DATEV distinction of a digital law firm mean?
Our firm received the distinction for the first time in 2019. The award is linked to criteria that are newly defined each year; and it is given to all members of DATEV upon meeting the key values. Having been awarded with the Digitale Kanzlei label, in PBS, we demonstrate our digital competencies in the field of tax consultancy.
How do we receive the DATEV-Kanzlei award as a law firm?
The individual degree of digitisation of our law firm was calculated using the DATEV digitisation cockpit. The following key data determine awarding the label:
Total digitisation rate
Digitisation rate bank statements
Proportion of clients with digital documents
Number of pay slips per hour
Digitisation rate of personnel movement data
In some evaluation areas (number of clients with digital documents, digitisation rate bank statements and general), PBS significantly exceeds the above criteria and scores in the top 10% of DATEV law firms - all over Germany.
As PBS - a digital law firm, we have set ourselves the mission of processing all orders in the field of financial and payroll accounting via the digital platform DATEV - a supremely electronic and automated online firm.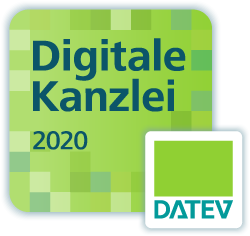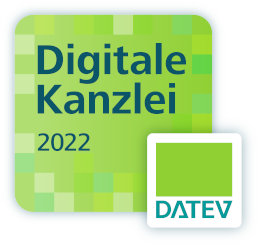 You would like to get to know us?
Simply make an appointment with us at a location near you.
We look forward to seeing you!
Our locations: